Over 327 of our customers have given us a 96% rating so you can buy from us with total confidence.
97% of our customers were satisfied with the lead time from order to delivery
97% of our customers were satisfied their container was value for money
97% of our customers would come back to us if they required containers in the future
98% of our customers would recommend us to a friend
Overall Customer Satisfaction

Don't forget your container accessories! We sell a selection of container accessories, from high security padlocks and padlock protectors to keep your container secure, damp traps to remove moisture from your container, racking to keep your storage space tidy, and ramps to make it easy to move large items in and out of your shipping container. If required we can also repaint your shipping container to whatever colour you need.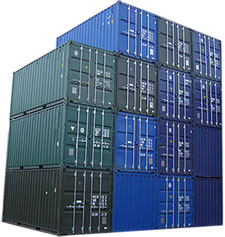 Alternative Shipping Containers
If you can't find the container you are looking for on our website don't worry. We have a sales stock of over 500 shipping containers including new and used 20ft and 40ft containers in various colours to suite your environment, these are either standard height 8ft 6ins containers or high cubes 9ft 6ins high.
For more information on our alternative shipping containers give us a call on 0808 301 2715 or use our online contact form.
We offer finance options on all of our standard shipping containers. At Containers Online we understand that shipping containers can be a large investment for a business. Our finance options allow you to spread the cost, making it easier to pay for your container.
We also offer container hire solutions, if you're a business looking for a short term container to hire or need some space for your belongings we can help.
For more information on shipping container hire and finance options please give us a call on 0808 301 2715 or use our online contact form.
Can't see what you are looking for?
We can offer more specific delivery options, multiple containers in any quantity and optional security extras.
Get in touch with us on 01922 741 757 or contact us by email.
* All new containers also known as 'single-trip' containers supplied within the UK are manufactured in the far east. They are then shipped once with cargo to the UK and consequently may have small cosmetic imperfections internally and externally from the journey.