BUY YOUR CONTAINER ONLINE NOW...
...and have it delivered to any UK mainland location (subject to conditions)
We have been in business for 100 years and have been in the container industry since containers first appeared in the UK around 40 years ago. You will be in safe knowledgeable hands!
20ft

containers
Fully weatherproof
Very secure
High quality ISO standard
Delivered & Positioned
Fully managed UK mainland delivery & positioning

Don't forget your container accessories! We sell a selection of container accessories, from high security padlocks and padlock protectors to keep your container secure, damp traps to remove moisture from your container, racking to keep your storage space tidy, and ramps to make it easy to move large items in and out of your shipping container. If required we can also repaint your shipping container to whatever colour you need.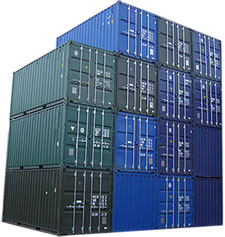 Alternative Shipping Containers
If you can't find the container you are looking for on our website don't worry. We have a sales stock of over 500 shipping containers including new and used 20ft and 40ft containers in various colours to suite your environment, these are either standard height 8ft 6ins containers or high cubes 9ft 6ins high.
For more information on our alternative shipping containers give us a call on 0808 301 2715 or use our online contact form.
We offer finance options on all of our standard shipping containers. At Containers Online we understand that shipping containers can be a large investment for a business. Our finance options allow you to spread the cost, making it easier to pay for your container.
We also offer container hire solutions, if you're a business looking for a short term container to hire or need some space for your belongings we can help.
For more information on shipping container hire and finance options please give us a call on 0808 301 2715 or use our online contact form.
Over 327 of our customers have given us a 96% rating so you can buy from us with total confidence.
97% of our customers were satisfied with the lead time from order to delivery
97% of our customers were satisfied their container was value for money
97% of our customers would come back to us if they required containers in the future
98% of our customers would recommend us to a friend
Overall Customer Satisfaction
What our customers say about us
Staff were very efficient and nothing was too much trouble for them. They were friendly and helpful
Delivery time was to suit me. Really pleased with everything from start to finish.
Audrey
Halina Witek was very helpful and professional with dealing with our order.

Kind regards
Ian
Ian, Sale, Training Provider, Buckingham


Dear Sir/ Madam
Yesterday you delivered a used 40ft shipping container to us in Wellingborough, Northants.
From the very first time I contacted your company regarding the purchase of this container, I have dealt with your Rachel Haycox.
I just thought that you should know that dealing with Rachel is an absolute pleasure, she is so friendly, helpful and polite and always keeps your customers fully aware of deliveries and was even able to provide me with an approximate delivery time!
I think that Rachel is a real asset to your company, and I would not hesitate in using S Jones again for any future requirements.
Thank you for a fantastic pain free service. We are very happy with our container, and the whole purchase was made so much easier because of Rachel.
Yours sincerely

Innes Walters
Director

Handcraft Manufacturing Ltd
Units 9 to 11 Denington Road,
Wellingborough,
Northants.



Wol, Sale, Manufacturing company, Wellingborough
Phone or email our friendly sales staff to find out more.